Snowshoe Alps Tours – Tarvisio, Canal Valley – Friuli Venezia Giulia. From December to the end of March, we offer several monthly schedule tours "hiking on the snow". The easiest way to experience a winter wonderland! If you can walk, you can snowshoe!

Snowshoe Alps Tours – Tarvisio
Follow trails deep into the forest to see snow-covered trees and spot birds and animals. Enjoy mountains and lakes of Tarvisio area. Fun for all ages and abilities – simply bring warm clothing and a sense of adventure. Modern snowshoes rental is included and the guided tour group can be up to 40 people.
Possibility to organize groups between adults and children (children under 10 do not need snowshoe and can participate free of charge). Please book by 12:00 noon of the day before your scheduled tour.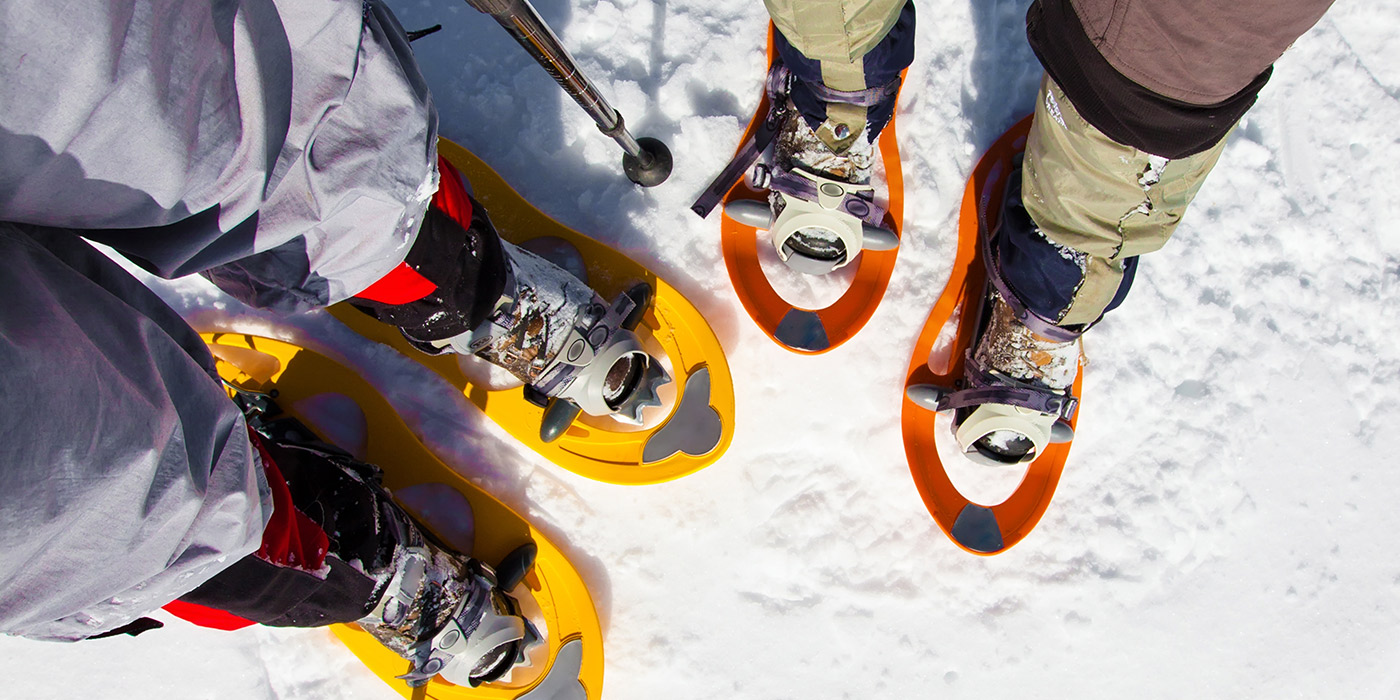 We suggest you bring with you a some hot tea, caffe or hot chocolate. In case of bad forecast, tours will be postponed according with the guide.
---
SNOWSHOEING DAY (duration 5h)
Ciaspolata Pramollo. Start at 9.00 a.m, meeting at Pontebba (UD) main Square. Difference in height of 300m, alt. 1600 m.
Between Italian and Austrian border, exploring winter-wanderwege Pramollo Alps!
7th January, 17th Feb 2018

Ciaspole & Larici. Daily snowshoeing starts at: ore 9:30
in height 450m, alt. 1400 m.
4th February 2018

Snowshoeing at the Grego. Meeting at 9.30 am in Ugovizza at the Latteria Difference in height 400m, duration 6h, height 1420m. Peculiarities: one of the snowiest valleys in the region, an excursion set between Jôf di Montasio and Jôf di Miezegnot!
December 26th, January 14th

In Val Bartolo. Meeting at 10.00 am at the Lussari cable car in Camporosso Difference in altitude 300m, Altitude max 1175, Duration 5h An excursion also suitable for beginners: the beautiful Val Bartolo! (Packed lunch)
February 10th 2018

Snowshoe Chapel Zita. Meeting at 9.30 am in Ugovizza at the Latteria 700m difference in height, duration 6-7h, height 1520m. Peculiarities: a trip more demanding than the others, but that repays with the discovery of an immense panorama from the Iron Canal to Austria under the gaze of the Jôf di Miezegnot.
February 11th
---
SNOWSHOEING NIGHT (duration 2/3h)
Verso il Rifugio Gortani. Night Snowshoe. Starts at 18.30
2h tour. Easy and suitable for all ages.
Trip at moonlight in Rauna Valley. Dinner after tour bookable at Rifugio Gortani.

Le stelle di Kugy. Starts at 18.30
about 3h duration, alt. 1000m.
North of mount. Jôfs, in val Saisera. Dinner after tour available on request.
LOCATION
Ugovizza – Tarvisio (UD)
BOOKING
From 8th Dicembre every day until March 2018
PRICE
20€ per person.
WEAR / OUTFIT
Winter wear. Sport water/snow resistent shoes and gloves.
MAP
INCLUDED

| | |
| --- | --- |
| Tour Guide | Snowshoe and sticks |

NOT INCLUDED

Winter wear and shoes
Food and Drinks